About Samantha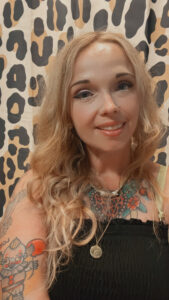 Samantha Fraser, a Professional Real Estate Negotiator, is a queer community builder with a passion for helping people achieve their dreams. A long time resident of Toronto's west end, she loves this city's diversity and the eclectic neighbourhoods that help make it shine. Covered in tattoos and often wearing leopard print, she is honest, weird, and extremely dedicated to her clients.
Samantha brings her unique enthusiasm for getting the details right and her love for interior design trends to help clients stage their homes to look their absolute best in a competitive sales market. Her negotiation expertise and skills with building a strategy will help you secure the best deal.
She knows that finding a new apartment or buying / selling a home can be a stressful life experience. Her sincere empathy and knowledge of the market will put you at ease while also getting you the best deal possible.
Born in England, Samantha has lived in many places including Nova Scotia and Northern Ontario. In non-pandemic times, she hosts various events around the city. She has five rescue cats, loves travelling, and goes antiquing frequently. She watches a lot of horror movies, and visits every single tropical tiki bar she can find, including the one in her basement.
With her delightful exuberance, Samantha Fraser is the down to earth, trustworthy, and knowledgeable real estate salesperson for you. Don't wait. Contact Samantha today.