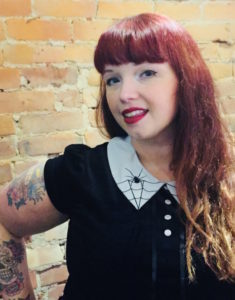 Samantha Fraser is a community builder and feminist advocate helping to facilitate growth and improvement, both professionally and personally, in all her clients.
Her work as a coach covers a wide range from offering accountability and productivity goal-setting to intimate relationship challenges and changes, with a special focus on non-monogamy. She knows first-hand how having a cheerleader in your corner can help you succeed and incorporates empathy and tough love into all of her coaching practice.
[LEARN MORE about Samantha's coaching work]
As a consultant, she brings years of experience working in interactive digital media, sexuality, event planning, and intersectionality to the table. Samantha has worked with SME companies since 2006 and offers consulting on a variety of business matters including funding, brand strategy, and human resources. Additionally, she has a wide network of contacts that can help to grow, educate, and support other businesses.
Samantha has planned over 25 large-scale conference, countless small events, workshops, and parties, plus a variety of different weddings since starting as an event planner in 2004. Her own sexuality conference, Playground, has been running successfully for 6 years in Toronto and continues to grow in attendance each year, with attendees joining from across North America and Europe.
Samantha has been seen on/in CBC DocZone, VICE, Toronto Life, SexMatters, InnerSPACE, CityNews, National Post, Toronto Sun, The Grid, Metro, Xtra, Electric Playground, and numerous panels on sexuality or entrepreneurship including the keynote of Vancouver's PolyCon 2013, along with multiple visits to Sex City Radio on CIUT 89.5 FM, NewsTalk 1010, and The Todd Shapiro Show on SiriusXM. She is also the author of Not Your Mother's Playground: A realistic guide to honest, happy and healthy open relationships.
Samantha was born in England and now lives with her two partners and five cats in the west end of Toronto. She doesn't drink coffee, loves anything coconut, and has a huge irrational fear of dinosaurs. When she's not working, she occasionally writes on her personal blog, shares too much information with Twitter, runs a craft business on the side, watches a lot of Star Trek, and visits every single tiki bar she can find.
In addition to coaching, consulting, and event work, she is available for speaking appearances, writing gigs, freelance projects, and press appearances.