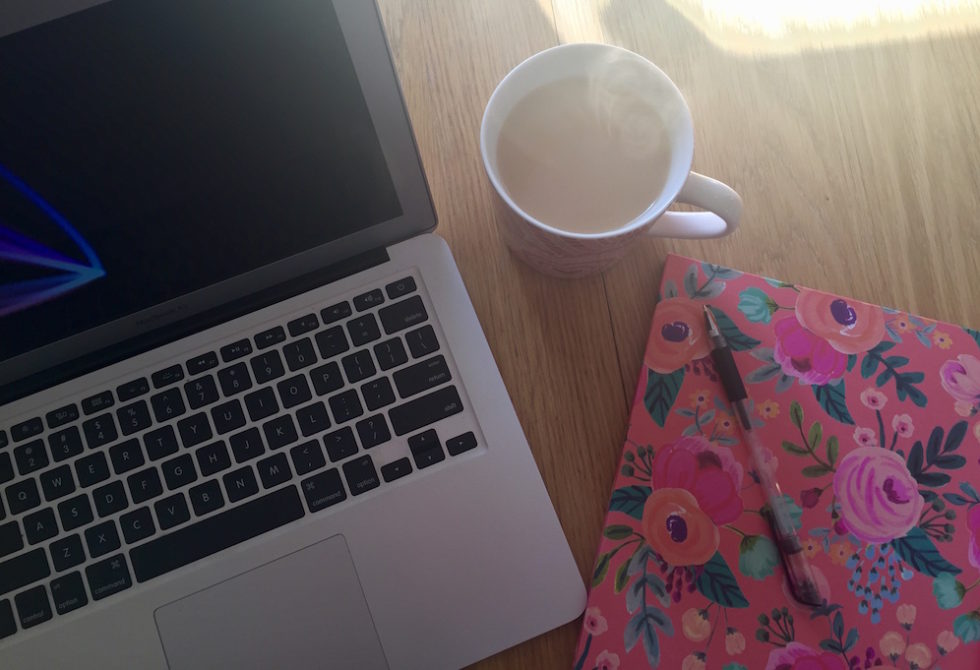 Top Tips – Working From Home
In my Top Tips series, I will be bringing you my favourite tried-and-tested ideas for a variety of different situations to help you be your absolute best self. In this specific post, I'll be sharing my top tips for working at home.
Nowadays, more and more people work from home; from freelancers, working for themselves, to contract or salaried employees who either work at home a few days a week, or even full-time.
The dream of working at home can be alluring for many; you can work in your pyjamas; you don't have to be around other humans; you can nap … but if you're not prepared for the realities it can become isolating and hard to manage very quickly.
Here are my Top Tips for working at home:
Set up a place to work.

Whether you live in a bachelor apartment or have the luxury of your own home-office space, take some time to set-up a place to work. It could be as simple as that one spot on the couch where you always use your laptop (get a lap desk to make couch working easier), or a full desk set-up where you keep everything work related and can close the door when you're finished.

There are lots of options nowadays for being a successful laptop warrior. If space is limited, consider a fold-down table, or a coffee table with a shelf for storage. The great thing about working at home is that you can play around with your set-up until it works best for you vs. being confined to an office's restrictive floor-plan.

Bonus: Setting up a work space means that you also get to leave that work space when it's time for Netflix and chill, the literal version.

Implement a routine (and try to stick to it.)

A lack of a good routine can be a big source of work-at-home based anxiety. While it might seem appealing to some to sleep all day and work all night, it's a good idea to ask yourself what you want your lifestyle looks like before becoming a nocturnal being.

Your work times may be dictated by your clients or your employer and that can be a blessing if you crave structure, or a curse if you crave freedom. If you live with a partner or a roommate who has a regular 9 – 5, you might consider building your work day around their departure and arrival times. That way you're both in home mode at the same time and can enjoy meals and other quality time together.

Maybe your routine is actually that you like to switch it up because you crave change. If you're feeling twitchy trying to keep yourself in work mode during specific hours, see if a more flexible schedule is more your speed. It's possible that you are ok with working late some, or even all of the time, but you won't know until you try. If you're not held to certain hours try different timing out and see what feels best to you.

Bonus: Having a routine means that you'll be able to make plans with others a lot more freely because you'll already know when you are and aren't available.

Get dressed.

This one might sound silly but it can be really important for your mental well-being when working at home. There are definitely those moments when it feels fantastic to be able to wear your sweats and the same t-shirt for three days straight, and I can't deny that I'm having a pyjamas day as I write this; however! Putting on clothes for work can help put you in the right mindset to be productive, but don't feel like you have to wear a suit every day; it doesn't need to be that involved.

One thing you'll save money on when not going into the office can be work clothes. That being said, try to, at least occasionally, get dressed into something that you'd feel comfortable and confident leaving the house in. The sloppier you allow yourself to look, the worse you're likely going to feel about your productivity. It's not about trying to fit into anyone else's ideal; instead it's about holding yourself to task so that you still feel professional and excited about the work you have to do.

For some people it might mean putting on some makeup that you'd like to wear outside. For others, the simple act of brushing your hair could be your secret weapon. Ask yourself what you need to feel confident in and remember to carve out time for it as many days as possible.

Bonus: Even if you just get half "dressed" and put on a nice top, you'll always be ready for that impromptu conference call. If you feel good in them, no one needs to know you're wearing PJ pants on the bottom. Shhh.

Feed yourself.

I'm not going to tell you to eat your breakfast (even though it IS the most important meal of the day), but I am going to tell you about a struggle I hear from so many friends and colleagues that work at home: They forget to eat! Not having the distractions of open office set-ups or coworkers heading out to lunch, it's possible that you will end up working more when by yourself. That can be fabulous for your productivity, but not so great for your hunger.

We all know how amazing it feels to get into a groove; to find that sweet spot where your ideas are flowing out of you just as fast as you can record them. Who wants to interrupt that? That's why setting a schedule can be helpful. Schedule your flexible lunch. Schedule your flexible breaks. Remember that food gives you the energy you need to keep going. Contrary to popular belief, humans cannot exist on caffeine alone.

And don't forget, if budget allows, to take yourself out for lunch or breakfast every now and then (presuming there's places to go where you live.) If you were at the office you'd likely go out with your coworker's for lunch occasionally so keep that in mind when planning your week.

Bonus: You won't have to deal with Brenda complaining about your favourite burrito place if you go there without her.

Schedule your time.

There are lots of different tricks for keeping yourself focused on the task at hand that I will get into in a future post, but an easy place to start is simply scheduling your time in chunks. Whether you use an electronic calendar or a paper planner, scheduling your work day can really help you put your best brain forward.

If time management is new to you, you don't need to get so detailed with your planning that you're budgeting every single minute – especially challenging if you're a creative who often needs inspiration to kick in first – instead try starting with blocking off chunks of time. For example:

9:30 am – noon: Work
Noon – 1 pm: Lunch
1 pm – 3 pm: Work
3 pm – 3:15 pm: Break
3:15 – 5:30: Work

Your schedule might look similar to that or you might find that you need more or less break time. If you find that the internet, news cycles, and / or social media distract you, try scheduling in time for those activities to make sure you both get your work done but stay as updated as you need to be.

Bonus: You might find that setting a schedule helps you not rely so heavily on those social media breaks and that treating break times as rewards can help you resent your work less as a result.

Get outside.

One of the strangest feelings is that moment when you realize you haven't been outside the house in 3 – 4 days. You don't have to be a people person to need to see other humans. You don't even have to like other humans to benefit from the endorphin rush of interacting with one, at least once in a while. You might do well with a simple walk around the block, to a coffee shop, or to a local store to run an errand at lunch or at another break time. I'm lucky in that my gym is under a kilometre away so I get to set my schedule around typical busy gym times.

If you're like me, you might have trouble going for a walk without a "goal" destination in mind. I started adapting my way of thinking and decided to treat that cup of tea and friendly interaction at the local coffee shop with someone other than the cats as a big enough goal to help motivate me to leave the house.

Bonus: Nature!

See friends.

One perk to working from home is that it can allow you to hang out with friends and family that perhaps also don't have an office to go to (co-work together at your dining table or at a local coffee shop), or simply to hang out with those folks who have different work schedules than the mainstream.

Don't forget to take advantage of the fact that you are your own boss (or at least that you don't share an office with your boss) and remember to have some fun every now and then. Don't chain yourself to do your computer if your deadlines don't require it. Make plans to go for a walk with a friend or to run some errands together during the day. Quality time can easily be spent being productive together.

Bonus: Social interaction can help get your brain re-charged as you'll take yourself out of your own bubble and into the friend zone. The real actual friend zone; where people are happy being friends and it's great!

NAP!

I can't stress this one enough. What do we so often want to do at the office but can't because it's strangely considered uncouth to sleep on the couch in the break room? (What's the point of buying such a comfortable couch then, Brenda?) It's nap. The answer is nap. Despite our best efforts, we're often tired and no americano in the world is going to fix this level of news-cycle exhaustion.

The rain is pouring down? The snow is filling up the streets? It's sunny and the birds are chirping? You want to shut out the world for a glorious 20 – 30 minutes? If you need some shut-eye, grab yourself a cat, set that alarm, and enjoy one of the best parts of working at home.

The Bonus here is obvious.

Take sick days.

I will complain about this in a future post, but it irritates me to no end how we, in North America, consider the flu to be the only valid sickness for not working. And even then, it's often expected that people will stay home and continue to work so as to not infect their coworkers. There are plenty of reasons for needing a day off ranging from chronic illnesses to mental health reasons, and also the flu.

Because we are constantly surrounded by it when we work at home, it can be really important to draw a very clear line in the sand for when you cannot work and need time off.

Obviously keep your deadlines in mind, but take your sick days if you can. I know it's more of a challenge for those of you in the U.S. where paid sick days aren't a common component of the majority of positions, but it's really important that all of us who work from home try and unblur that line between well enough to work and "I really need a break to recover so that I can be better tomorrow – or whenever."

Bonus: You don't have to go into the office to show off that you're sick and then get sent home.
As you can see, there are lots of points to consider when working from home. What might seem like exciting freedom at first can be really challenging if you're a person who strives better with structure. Knowing how you function in a variety of situations will help you put your best foot forward and be your most productive, and happy, self!